EXCURSIONS
On the weekends we organize longer excursions with experienced guides to the most beautiful locations of the region, such as volcanoes, lagoons, lakes, mountains, Mayas ruins, farms, beaches, hot springs, markets, and more.
In addition, when you participate in the activities and excursions it is a special opportunity to meet descendants of the Mayans and to share experiences with students from around the world.
If you would like to see this month's activities write to us
and we will send you the calendar of events!
Volcano Santa Maria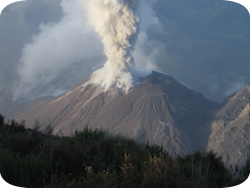 The Santa Maria Volcano is the majestic volcano that can be seen from most parts of Quetzaltenango. It is located just to the south of Quetzaltenango. With an elevation of 3,777 meters above sea level you are often rewarded with spectacular views of the region from the summit. On a clear day it is possible to see Volcano Tajamulco (the highest point in Central America), as far as the Pacific Coast, and the volcanoes surrounding Lake Atitlan near Antigua. Just below Santa Maria lies the active Volcano Santiaguito. Santiaguito is one of the most active volcanoes in the world. When you summit Santa Maria you are almost guaranteed to see Santiaguito erupt at least once.
Laguna Chikabal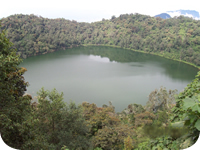 This very important and beautiful lagoon is situated just 24 kilometers from Quetzaltenango: a sacred place for the Mayan towns, a paradise for nature lovers. The lagoon is within the crater of the volcano, which has a special mysticism associated with the clouds of mist that surround the lagoon each morning. Chikabal is probably the most important sacred site for the Mayans.
Lago de Atitlan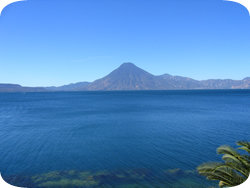 The lake of Atitlan is located in the west of Guatemala. The lake is definitively one of the most impressive attractions with beautiful landscapes and Mayan towns where the colorful, typical textiles of Guatemala are displayed. Around the lake there are three majestic volcanoes that were formed long ago, and increase the lake's beauty; Atitlan is considered one of the most beautiful lakes in the world.
Excursions to hot springs and saunas

Aguas Amargas, Los Vahos, Fuentes Georginas, Aguas Termales, etc.
Quetzaltenango is near an active volcanic zone therefore the area is surrounded by natural steam baths and hot springs. These locations are also places where it is possible to appreciate incomparable landscapes, thus creating unsurpassed relaxation centers.
Beaches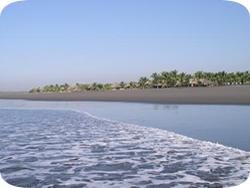 Tilapa, Monterrico, Champerico, Tulate, and others.
Guatemala has beautiful beaches; the majority of them are located along the Pacific Ocean, 2 to 3 hours from Quetzaltenango. You can enjoy the radiant Sol Latino, the black sand, the warm seawater, the rich seafood, and refreshing coconut water drinks. It is the ideal place to relax!
We are flexible with our programs and can change them to meet the desires of our students.