STUDENT COMMENTS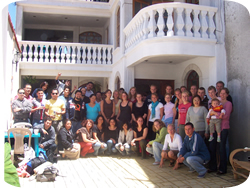 I had a wonderful time at Sol Latino. This Spanish School doesn't just improve your Spanish, but also organizes a lot of activities for its students. These activities give you more knowledge about Guatemala, its people, culture and costumes, and are always a lot of fun! Sol Latino offers dance classes, sports, excursions, dinners and trips to the beach (between the classes you have to maintain your tanning of course). The instructors are very kind and helpful. I had a great time at Sol Latino!
Wendy Hensbergen
wendyhensbergen@hotmail.com
I had Spanish classes at Sol Latino for 1 month, the easy way: every day for 4 hours. I had already studied Spanish before, and I liked it so much that I was able to do this. Every week they change teachers, which is very informative and offers good variety. Sol Latino also found me a host family, it was so fabulous that they arrange everything! With the family you speak Spanish, but sometimes also English and Dutch. After Spanish classes we did a lot of fun things for the activities. For example making "chiles rellenos", filled paprikas with ground meat and vegetables. Also we had a movie night and once we went to a conference on "the situation of the women in Guatemala". Sol Latino was a very nice and informative school, where the staff is flexible and kind!
Charlotte Rodenburg
charlot_1988@hotmail.com