STUDY LEVELS & PROGRAMS
Our teaching philosophy
"Sol Latino" is dedicated to providing a personalized teaching method for each student according to his or her goals and abilities, in order to optimize the progress and development of the Spanish language. In order to achieve the highest standard of teaching we offer 10 different levels as well as a variety of specialized programs to suit the individual needs of each student.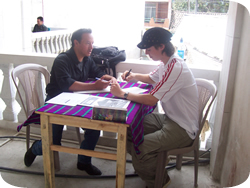 Levels:
Our levels of study are classified progressively from Beginner (for students who have never studied Spanish before) through Superior (for the student who wants to perfect their Spanish).
We offer:
Beginner I, II, III
Intermediate I, II, III
Advanced I, II, III
Superior
Want to know your level? Write us
and we will gladly send you an exercise to determine your level.
Programs:
"Sol Latino" also offers a variety of programs for those who want to study Spanish for a specific purpose. We offer specialized programs for:
Volunteers
Travelers'/Survival Spanish
Medical Spanish (for both doctors and nurses)
Social workers
University groups
Internships
Lawyers
Missionaries
Families
Children
Persons of any age
Miscellaneous groups
           
Your instructor will develop a personalized course plan according to the program that you choose. Will you be volunteering with children? If so your instructor will give you the appropriate examples, exercises, and vocabulary for different situations that you may encounter during your work. Or, will you be traveling around Latin America? If so, your instructor can provide you with the necessary Spanish for various situations that you may encounter during your trip.
If you would like more information about a specific program feel free to

contact us

.
At the completion of his or her studies at "Sol Latino", each student will receive a diploma certifying the level of Spanish they have achieved.