VOLUNTEERING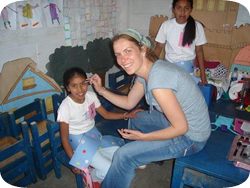 Working as a volunteer requires certain conditions such as:
The energy and desire to help.
Comprehension of the cultural structure and cultural expressions. This type of comprehension is possible when you have an understanding of the language. To assist you in this learning process the school has developed a specific teaching program for each social project. We not only teach you the necessary grammar and vocabulary specific to the area, but we also help you understand different cultural topics, history, socio-economic situations as well as other important information.
With our "individual program" we accommodate your lessons to match the type of project in which you would like to volunteer. In order to combine your volunteer time with your Spanish classes we are willing to be flexible with your hours of study if it is necessary. In addition, if you have ideas to design activities in order to collect funds or materials for the projects we can help you.
Requirements for volunteers:
Fill out an application form to work as a volunteer.
Volunteers must have adequate knowledge of the Spanish language to meet the requirements of the organization and type of volunteer work.
A minimum two-week commitment is preferred; however, this varies depending on the social project.
. Please let us know as much as you can about your travel plans ahead of time.