STUDENT COMMENTS
My experience living with a host family: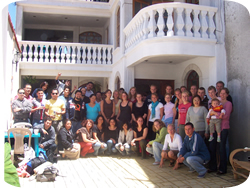 When I arrived in Xela, two teachers from Sol Latino picked me up from the bus station. They brought me to my host family in zone 1 of the city. This is the centre of town. I lived close to all the important spots like places to go out, the Spanish school, 'parque central' and the bus to go to the project where I volunteered. It was a nice family, the parents were young, between 35 and 40 and they had two children, a 5-year-old son and a 13-year-old daughter. There were also Guatemalan students living with this family too. I think it was a modern family; they had their own 'tienda' next to their house. The both took care of the household, the store, the students, the food and the children. 'Mom and Dad' were good cooks, so I did not have to complain about the food (I'm a vegetarian). I also made a small trip with them to Lago Atitlan, we went to see some huge fireworks, a good movie, and they brought me to a good dentist. It was a good way to get to know the culture. The plan was to live with them for 4 weeks, however, this changed and I stayed there for 4 months! After 4 months, I moved to an apartment, where I lived for 5 more months, but I kept on visiting my host family. If you have any questions about the Spanish school Sol Latino, the volunteer project Caras Alegres, living with a host family, or about the nicest town in Guatemala: Xela, you are free to email me or look at my web log www.esmeraldasmit.waarbenjij.nu (it is in Dutch and English).
Esmeralda Smit,
Den Haag, The Netherlands,
esmeralda_smit@hotmail.com

In 2007 I atended Escuela de Español "Sol Latino" in Quetzaltenango. Every day I had 5 hours of Spanish, which was demanding and educational, but also a lot of fun. I stayed with a host family. This was the best experience ever! It's the best way to get to know a country's habits, way of life and get a clear picture of the daily activities and worries because you are actually part of it! I was forced to speak Spanish, being a member of the family, so it's free practice,. The family took care of me and looked after me as if I was a relative. This warmth of the people made me feel at home, in fact made me feel a Guatemalan.
Roelf Sikkens
roelf.sikkens@gmail.com
I would really recommend a room in this wonderful house. In 2007 I lived for 2 months in this house which is, by Guatemalan standards, a luxury building. It has all the facilities you need: a very good shower, a well-equipped kitchen and more than enough space to relax in and outside. And last but not least: it's very clean! And the price by western standards is practically a joke. Also, it's very nice that you see the owners of the house daily during Spanish classes. You can ask them everything about gas, water, keys, heating, etc. They are very kind and resolve any problems immediately. I enjoyed my stay at Sol Latino a lot! You don't just learn Spanish from the patient and nice instructors, but you also learn a lot about Guatemalan life. I wish you the same great experience! For more information feel free to write me:
Janneke Koers, The Netherlands
janneke-koers@orange.nl
My experience in Guatemala with the language school and my host family was very good. The moment that I arrived the school and the host family immediately took care of me. I became a part of the family. Also the language school has a good ambiance and social scene, and I felt as if I was at home. My classes were good and intensive. There were also nice activities besides the classes. I experienced a lot there and enjoyed all of it!
Christa Essid
christa-daniella@hotmail.com
I enjoyed my room in the guesthouse Casa Latina, most of all because of the big, modern bathroom and the well equipped kitchen. This was a lot better than the badly equipped spaces in other places.
Mia Hachmang
miahachmang@casema.nl
It's now been 1 year since I went to Guatemala to learn Spanish and to do volunteer work. I began at a Spanish school that had some connections with the project I wanted to work at.  They arranged a hotel for my arrival in the capital, and they found a family in Xela where I stayed for 6 weeks. I learned Spanish for 6 weeks and every week I had a different teacher. The school is in the old centre of Xela, near a typical Guatemala market, a great spot. The program is quite intense, but very nice. There are a lot of different ways to learn Spanish. The school is also socially involved, and in addition to many opportunities to go on excursions you can attend lectures on topics such as human rights or Maya rituals. The Morales family, where I stayed for 6 weeks, gave me the opportunity to experience the Guatemala way of living. I have very dear memories, leaving after 6 weeks was not easy. At the end Rineke, the International Coordinator at Sol Latino, helped me find a different place where I could stay and work for my last 2 weeks in Chimaltenango, Guatemala. Señora Morales and Sol Latino made my stay in Guate an unforgettable time in my life!
Frank Kiewitt,
Alkmaar, The Netherlands, july 2008
f.kiewitt@hotmail.com for all your questions