OUR INSTRUCTORS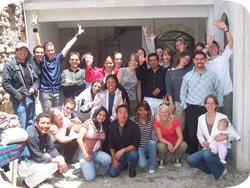 Each instructor at "Sol Latino" has been carefully selected. The teachers of "Sol Latino" are local Guatemalans who specialize in teaching Spanish as a second language, and have obtained their training through programs such as the diploma for teaching Spanish to foreigners offered at the University of San Carlos of Guatemala. All of our teachers have many years of experience and have a passion for teaching. Our teachers use the best methods, techniques, and activities to introduce the student to the Spanish language in a progressive manner so that the student can learn quickly, efficiently, and at the same time, enjoy their learning experience.
Our instructors are diverse in age, gender and life experience. Each teacher will personally adapt to the needs and ability of each student. We are proud to employ a dynamic group of teachers with lots of energy and charisma to keep you motivated during your classes.
In addition to providing excellent Spanish instruction, our teachers are also knowledgeable about local politics, culture, history, and other facets about Guatemala and Latin America. If you are interested in exploring these topics the in-class discussions will enrich your knowledge of the culture, and your language skills, as well as your overall experience here in Quetzaltenango.