TEACHING METHODOLOGY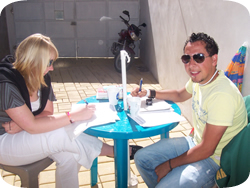 The most efficient way to learn a language is to completely immerse oneself in the language and culture. For this reason our methodology was developed in the following form:
At the beginning of your classes, a plan is developed according to your knowledge and needs.  
"Sol Latino" has developed its own grammar guide by means of an extensive range of books, in addition to the knowledge obtained by each of our instructors through specialized study and of many years of experience in teaching the Spanish language. Therefore, a complete, gradual and structured education of Spanish grammar is presented to the student.
The instructors at "Sol Latino" use an extensive range of didactics, different oral and written exercises, reading, various topics, conversations, etc, including variations in classes such as games, songs, idiomatic expressions and sayings, naturally propelling the student to an understanding of the shades of the language and the Latin culture.
Language is communication, and for that reason we put emphasis on a practical approach: the student speaks and thinks about Spanish from the first day. This motivates the student to practice and to improve his or her articulation and understanding, which is corrected through repetition, as well as developing conversation subjects varying from the experiences of the personal life to the culture, history, etc. In this way we enable the student so he or she can easily communicate anywhere in the world with Spanish speaking people.
Learning is completed by staying with a Guatemalan family and with the school's daily activities such as cultural education, participation in cultural projects, educational activities, and social and recreational activities.